Dai Dassou
HQ Idol Scans
large ass scans for your viewing pleasure since 2007.
version sixteen point three. 9 years, omedetou.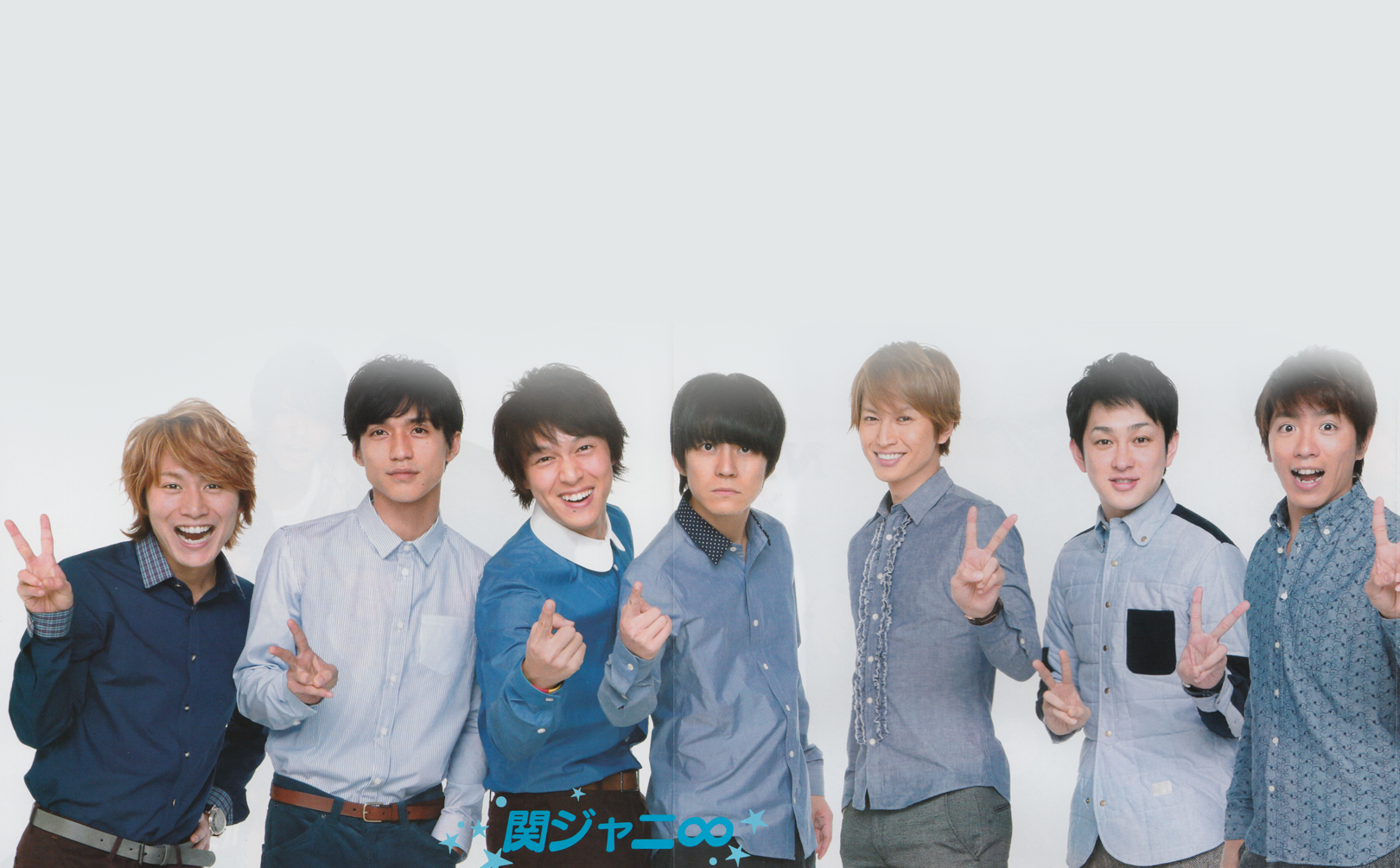 please read
welcome to dai dassou, an image gallery full of images scanned by ladymercury.
*note* majority of the images on this site are scanned at a high res, meaning they're 2000 x 2000+ in size. if you're running on a slow connection, stop being cheap and go buy some broadband.
shower me with your love
usage notice
when using these scans for your graphics or websitse, please credit this website and or ladymercury (or lady_mercury if you're on livejournal) for scanning them. do not remove the watermarks from my scans and do not alter them, taking credit. you are to use them for graphics, blah blah. the glay images have my old glay site watermark on them. please credit that site for the efforts (reaching for the global communication).
unless otherwise noted,
all images scanned in this community are from the magazines, cds, and dvds i've bought. i am making no profit whatsoever off of this website. actually, this website is costing me money :/ (the musical air gear super range remix scans are the most expensive - $120 dollars)
like me, you should go out and support the artist by buying their goods. thanks!
about?
i started this gallery because i was inspired by the late jrock scan collective, blue neurose. impressed by the high quality scans and well organized collective i decided to start my own. thinking of a name, i couldn't really think of one but then kanjani8's great escape~大脱走~ started to play and i just decided to name it after that song. as you can see in my scan gallery, if i had not imported my glay scans here, it probably would have been a mini kanjani8 scan collective. LOL. i love them so much so you'll notice that bias here in this gallery.
enjoy!
The Scanning Process
Its not an easy job to take a magazine and scan it while maintaining high quality, and since I'm a whore for quality, I tend to take this seriously. lol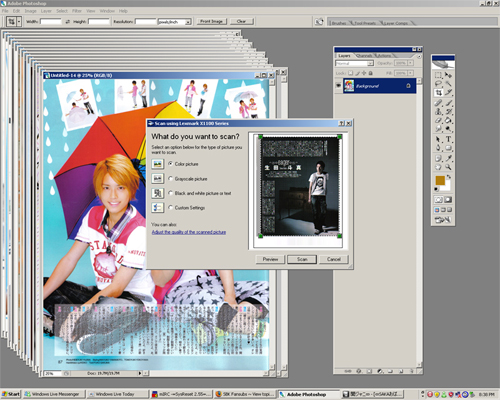 Scanning
Obviously the first step is to scan. My scanner is a five year old Lexmark scanner which is currently obsolete and is a 3 in 1. I do not use the scanner software, I use windows WIA and scan directly into Photoshop.
I used to scan 300dpi, but realized that I get a better scan with 600dpi.
I do not rip pages out of my magazines. To me, that's like, why do that? Why tear up this precious, expensive, book? That's like book murder. It makes me cry.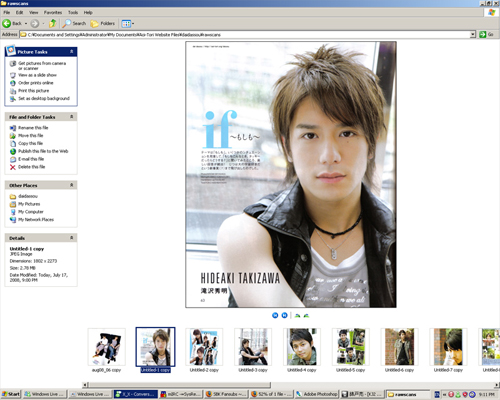 Resizing and Saving
The scans originally scan in roughly at 4500x6000 and are about 80mb each, which is way too big.
In photoshop I have a batch command that does this for me. It resizes all my scans to 1500px height. Then I manually watermark each scan, run the batch command to save my scans and then another batch to automatically resize them to thumbnail size (200px)
Once the scans are saved, I have a batch renaming software that renames all my scans at once. I used to do this manually but I realized batching would save me time and a headache.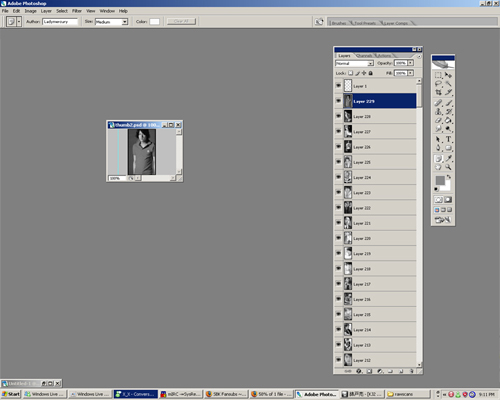 Thumbnails
Thumbnails are manually made. I take each 200px file and move them into a premade thumbnail psd file and save each one manually. This is the longest process, longer than coding.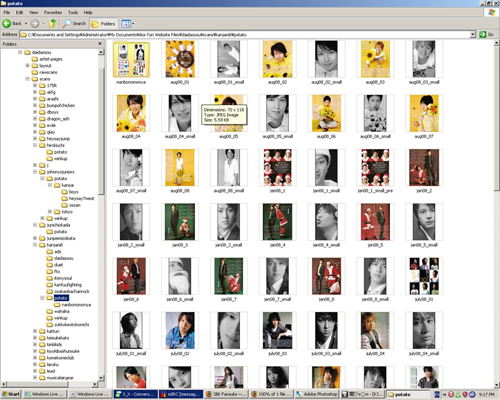 Moving to Directories

I have my scans moved to their respected directories. I'm pretty anal about how they're organized because the scan directories is also the same as this website, thus it should match.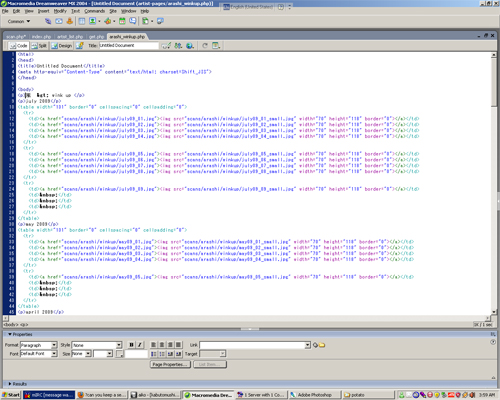 Coding
The final piece to completing the puzzle is actually coding the site. I add the images to the gallery, coding each gallery and updating them. Usually since the scans are about the same in number per artist, I just copy and paste into each gallery changing the artist folder to the next one.
Once done I save and upload via FTP to my sever and then annouce to the livejournal community boys_paper that I have a new set up scans added to the gallery. Sometimes I don't.
Final Notes:
Scanning concert pamphlets are extremely hard and time consumming. Since they're generally larger than the scanner and more delicate. I tend to end up breaking the spine on my pamphlets. ~_~


This also isn't cheap. This costs me a lot of money :|
dai dassou's monthly bills:
hosting: $10/month
magazines: $8.50 USD x 3 (standard three, not including special buys like tv guide)
shipping: $42
total: $72.50 a month